Overarching goal and focus:

Food security is one of the most serious global challenges humanity is facing. Accordingly, the agricultural sector is increasingly challenged with the prudent use of resources to curb the deterioration of soil, water, and environmental quality. This challenge is compounded by the potentially adverse impact of extreme changes in climatic patterns on agricultural systems, particularly on soils. On this front, my research program is focused on improving soil health and agricultural productivity by implementing conservation management practices and using organic and recycled materials. My program pays special interest in organic cropping systems research as the demand for organic produce is skyrocketing. We pay equal attention to both applied and fundamental aspects of soil management research. Under the applied research focus area, we address how different farming practices in row-crop and pasture-based systems impact crop yield and ecosystem services such as soil, water, and air quality. Under the fundamental research focus area, we understand the responses of ecosystem carbon and nutrient cycling to biotic and abiotic changes and the implication of such responses to ecosystem sustainability and climate change mitigation.
Specific Projects:

Organic farming systems research (Funding: USDA Organic Transitions Program, Organic Agriculture Research and Extension Initiative, The Organic Center, Foundation for Food and Agriculture Research)

Despite its known benefits and recent growth in the US, Tennessee lags far behind in organic production. Organic systems generally rely on tillage to suppress weeds and incorporate residues. This discourages farmers from transitioning to organic practices in Tennessee, where no-till management has been widely adopted. Moreover, utilizing animal manure as a major nutrient source in organic farms may cause issues such as imbalanced nutrient availability and higher CO2 emission. Thus, feasible methodological and scientific guidance in transitioning into organic farming which does not heavily rely on tillage and manure addition is helpful for promoting organic production. To optimize productivity and environmental protection, our studies are designed to investigate conservation tillage, cover and smother cropping, agroforestry integration, and forage species selection under organic management. Our goal is to establish viable organic systems in the Southeast that have minimal tillage and manure reliance.
Crop diversification (Funding: USDA Agriculture and Food Research Initiative)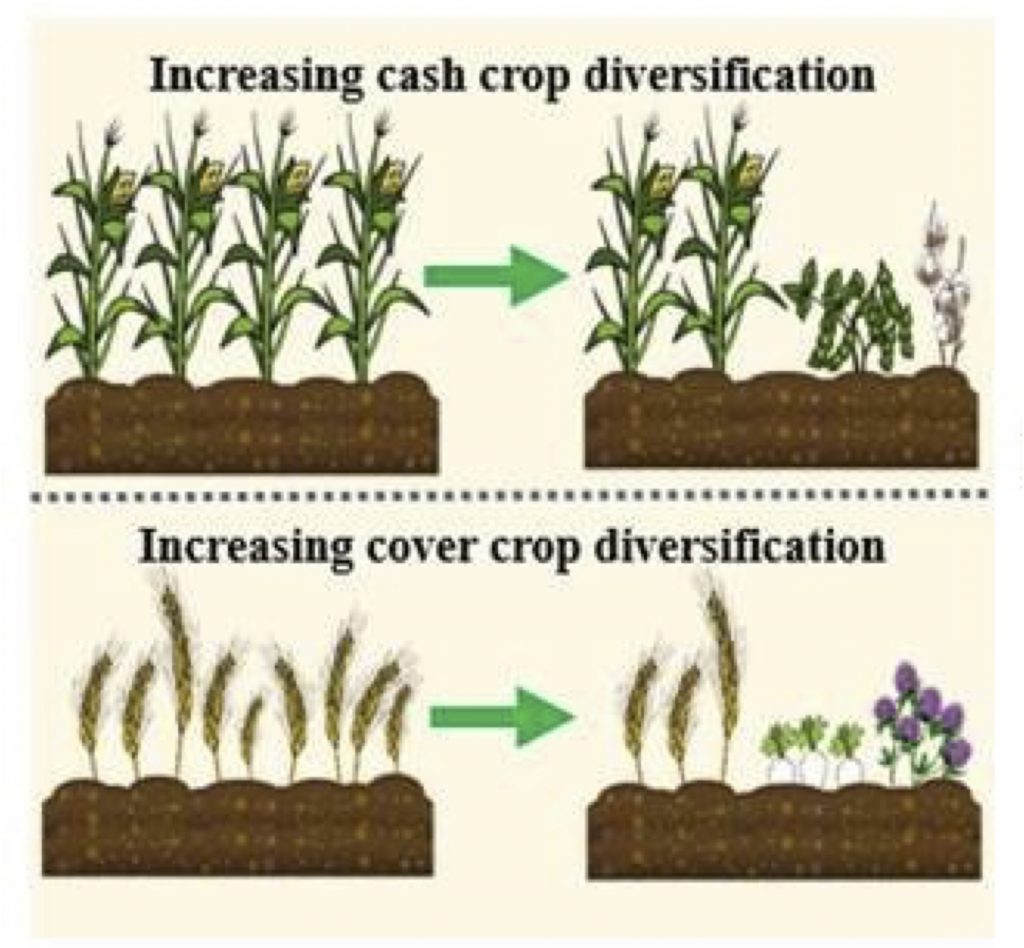 One of the world's most pressing challenges is to increase food production as the population continues to grow. At the same time, the agriculture sector's environmental footprint must be reduced considerably to maintain the ecological sustainability and resilience of crop production. An increasingly popular avenue for meeting these demands is crop diversification through crop rotation and cover cropping. We started a field experiment to study the agronomic and ecological outcomes of two-way diversification strategies through cover crop management (single, double, or multi-species) and annual rotation using corn, cotton, and soybean systems in the southeast United States. In addition, we are conducting laboratory studies which aim to determine how crop diversification alters soil carbon fluxes and stocks. With a greater understanding of the plant, soil, and microbial responses from two-way crop diversification, the team will carry out Extension activities to inform producers about optimum cover crop and row crop diversification strategies that support improved soil health and biodiversity, better crop yields, while reducing fertilizer use. Benefits to the environment include reduced soil and nutrient loss, and improved water and air quality.
Press release
Linkages between soil manganese and carbon cycling (Funding: ORNL and UTK – Science Alliance Partnership)

Manganese (Mn) is an essential micronutrient for plants. In agricultural systems, it is added as fertilizer, but in excess, it can become phytotoxic, especially in acidic soils. Recent studies have also emphasized the potentially important role of Mn in litter decomposition and stabilization or destabilization of soil organic carbon. Mn-(hydr)oxide soil minerals have a large surface area and a high capacity to complex organic carbon compounds in organo-mineral associations, the most prominent organic carbon stored in soil. On the other hand, Mn oxides are also strong oxidizing agents and could facilitate the microbial degradation of organic compounds under anaerobic conditions. Despite its importance, the mechanisms by which Mn increases or decreases long-term carbon storage in terrestrial ecosystems remain poorly understood. To improve this understanding, we are collaborating with research scientists at Oak Ridge National Laboratory to conduct a series of field, greenhouse, and laboratory studies, which aim to assess the effect of increased Mn availability on plant productivity and litter decomposition, and their interaction with carbon fluxes and stocks. This project's overarching goal is to advance our understanding of how Mn-soil organic carbon interaction affects agroecosystem productivity and carbon balance to better inform process-based models of coupled element cycling in terrestrial ecosystems.
Enhancing sustainability through cover crops (Funding: Tennessee Department of Agriculture)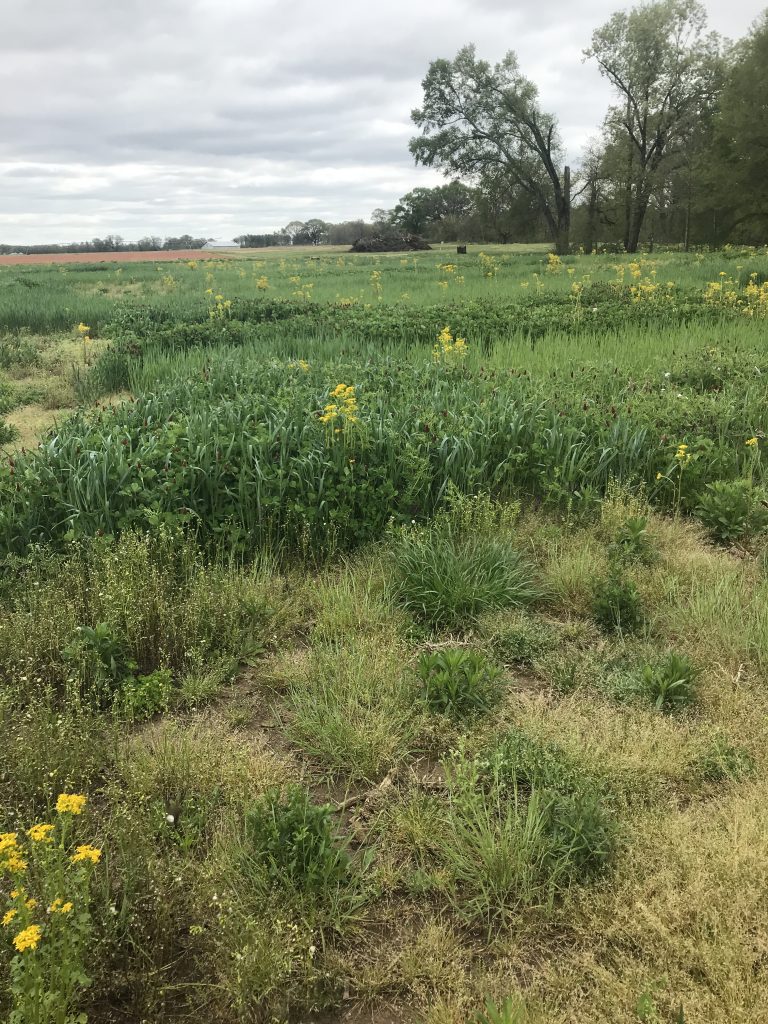 In the US, cover cropping has been increasingly recognized as a promising farm management strategy towards sustainable production. Despite this recognition, cover crops adoption rate nationwide is very low. To improve the awareness of the numerous merits of cover cropping in the farming community, our research targets to address several key challenges:
(i) quantitative and simultaneous assessment of soil, crop, and environmental impacts from growing a variety of cover crop species in the row crop and pasture systems in Tennessee,
(ii) determine whether the adoption of cover crops can aid in developing production systems that are resilient to unexpected changes in climate,
(iii) develop a comprehensive profitability analysis of cover crop integrated systems.
Deep soil carbon storage (Funding: USDA-ARS, USDA-NRCS, Institutional Grants)

It is important to think carefully about how we use and manage our soils to mitigate excess carbon in the atmosphere and avoid unintended environmental consequences. However, over the past two decades, most published soil science studies have focused on studying carbon storage in the top 30 cm. However, subsoils offer immense potential to store additional carbon, and thus play critical role in the global carbon cycle. We use laboratory and field experiments to determine how agricultural management decisions impact subsoil carbon dynamics, with a special focus on the functioning of soil microbes and distribution of carbon across fast- vs. slow-cycling carbon pools.
Completed projects

Moisture Sensitivity of Soil Organic Carbon Decomposition

Soil and Forage Crop Responses to Biochar Amendment

Cover Crops for Agronomic Crop Response

Evaluation of Popular Soil Health Assessment Methods