Moisture Sensitivity of Soil Organic Carbon Decomposition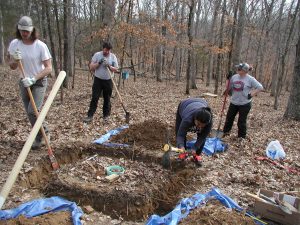 Soils contain the largest stock of organic carbon (C) in terrestrial ecosystems and this massive pool of C in soil is very vulnerable to climatic changes and other environmental perturbations. Therefore understanding responses of ecosystem C cycles to climatic and environmental changes is vital for the accurate prediction of the future concentration of atmospheric CO2. We launched a study to understand how soil moisture constraints soil C decomposition processes. The field location for this research is the Missouri Ozarks Ameriflux site (MOFLUX). The research involves not only field data collection at MOFLUX site but also extensive laboratory‐scale manipulative experiments in order to investigate the mechanistic processes underpinning the moisture sensitivity to C decomposition processes.
Funding Support: Oak Ridge National Laboratory in collaboration with Dr. Melanie Mayes
Assessment of Soil Health in Response of Agroecosystem Managements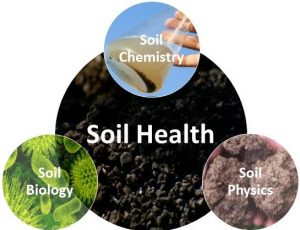 Healthy soils are the backbone of sustainable production systems. Assessing the changes in soil health is critical in designing best management practices to support sustainable agriculture. Soil health assessment has emerged as a sensible approach to measure the management-induced changes in soil health. However, no generalized method is available yet to quantify soil health. The major challenges are identifying indicators of soil health, and integrating the indicators to quantify soil health. Our lab is working on identifying physical, chemical and biological indicators of soil health relevant to the productions systems of south-eastern United States. Our ultimate goal is to develop a regionally adaptable soil health assessment framework and to identify the best management practices to promote healthy soils.
Enhanced Sustainability of Production Systems through Cover Cropping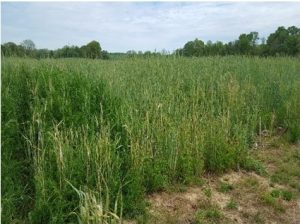 In the US, integrating cover crops into row crops has been increasingly recognized as a promising farm management strategy towards sustainable production. Despite this recognition, cover crops adoption rate nationwide is very low. The extremely low adoption rate clearly indicates that majority of the farming community is not aware of and/or convinced of the numerous merits of cover cropping. Our research targets to address several key challenges in this area including, but not limited to, (i) quantitative and simultaneous assessment of soil, crop and environmental impacts from growing a variety of cover crop species in the row crop and pasture systems of Tennessee, (ii) determine whether the adoption of cover crop can aid in developing production systems that are resilient to unexpected changes in climate, and (iii)  develop a comprehensive profitability analysis of cover crop integrated systems.
Soil and Crop Responses to Biochar Amendment
Biochar is produced by heating biomass in the absence of oxygen (pyrolysis). Numerous benefits from adding biochar to soil are reported including improving soil physical properties, adsorbing heavy metal from soil, releasing nutrients to soil, conserving water, sequestering organic carbon and improving soil microbial activities. A variety of factors, however, influence the soil and crop response to biochar, so the results are not always conclusive. These factors include soil type, feedstock material, biochar processing conditions, amount applied to the field and the type of cropping systems. We initiated a field-based research to gain a greater understanding of the influences of biochar on ecosystem services including crop productivity, soil health, and environmental impacts.