Sigma Nu's 2012-2013
Sigma Nu Epsilon Eta Chapter
The University of Tennessee
Knoxville

Homecoming 2012
Sigma Nu and Sigma Kappa joined together for Homecoming 2012. The groups participated in Smokey's Howl, Small Float, Anything Goes, Small Banner and Soap Box Derby. With over 125 Greeks working Sunday to Friday, the hard work was rewarded on Saturday during the halftime announcements with a second place finish in Small Banner, a fourth place finish in Small Float and a fifth place in Soap Box Derby.

Recruitment 2012
The Inter Fraternity Council fall recruitment took place August 21 – 25. The chapter signed 31 new candidates during the recruitment period. Recruitment stated with the brothers of Sigma Nu helping the Class of 2016 move in. The chapter sponsored a Lake Day on Sunday afternoon with boat rides on Tennessee River, a pool party and dinner catered by Buddy's Bar-b-que. The event was held at the home of Dr. Jack Lacey. Dr. Lacey has been the Chief of Staff at UT Hospital since 1992 and was a member of Sigma Nu Fraternity in the late 1960's. On Monday afternoon, the chapter received a behind the scenes tour of Neyland Stadium. The week culminated with a River Boat Date party on Bid Day.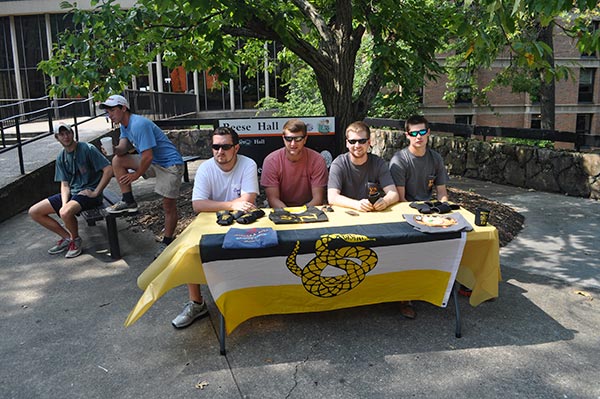 Philanthropy Events
Fall semester 2012 was filled with the Sigma Nu chapter participating in several sorority philanthropy events. The chapter won the Delta Zeta clay shoot, the Kappa Delta War of Wings and brother Trent Crawley won the Sigma Kappa poker tournament. In addition, Sigma Nu participated in the Delta Gamma Splash Jam.

Family Weekend
Sigma Nu sponsored their annual Family Weekend September 21 and 22. The event was attended by over 90 brothers and family members and was held at Calhoun's on the River. This year was Mr. Dave Irvin, Associate Vice Chancellor for Business and Finance on campus. Mr. Irvin reviewed the University of Tennessee's master plan for the next ten years. On Saturday afternoon, the chapter sponsored a luncheon at the fraternity house for all families.

Relay for Life, Spring 2013
Sigma Nu participated in the annual campus wide Relay for Life in April 2013. Hundreds of campus students participated in the overnight camp out in Circle Park. Sigma Nu raised more money than all other fraternities on campus combined.

Founder's Day 2013
The Chapter held their annual Founder's Day event on Saturday, April 20 for alumni and the family members of each brother. A luncheon was catered at by Chandler's at the chapter house. The chapter named Phillip Davis as Brother of the Year, Claudio Tombazzi as Scholar of the Year, Jim Scobey as Alumni of the Year and Jeremy Arnold as Athlete of the Year.