Sigma Nu's 2014-2015
Sigma Nu Epsilon Eta Chapter
The University of Tennessee
Knoxville

In Memory of Epsilon Eta # 1570 --- Will Coker
William Richard Coker, William began his journey on this earth in Chicago, Illinois, on June 3, 1994. From his earliest years, he expressed a thirst for knowledge. Throughout his life, he continued a quest to understand the intricate details of God's great universe. In 2012, he graduated from Christian Brothers High School in Memphis, Tennessee. After graduation, he spent two years determining his path at the University of Tennessee in Knoxville and realized his passion to be philosophy and understanding the complexity of the universe. He always tried to be the best person he could be and influenced those around him to strive to be better. He was a rising senior and set to graduate in May, 2016. While at UT, he participated in the Rugby Club and several athletic pursuits representing his fraternity. He was a member of the Epsilon Eta chapter of Sigma Nu Fraternity badge number 1570. While enjoying the majesty of one of God's creations with his friends at Lake Chickamauga, he was tragically injured. God carried William home to answer all of his questions about the universe. God knew the influence William would have on Earth, but He has a greater calling for him in Heaven. William had completed what God had for him on this earth and had fulfilled his purpose here. William passed away on Sunday June 21, 2015. He was preceded in death by his father Ricky Coker, paternal grandparents Bill Coker and Audrie Coker Walters, and maternal grandfather William Paul Moore. He is survived by his mother Sarah Moore Coker, sister Elizabeth Coker, and maternal grandmother Ople Moore. Aunts and uncles: Greg and Rhonda Moore, Sammy and Martha Garner, Paul Allen and Estelle Moore, Greg and Nancy Coker, Bobby and Karen Sanders, and Cathy Cook. Numerous cousins, friends, and brothers of Sigma Nu. Visitation will be held at Memory Chapel Funeral Home in Laurel, Mississippi on Friday June 26 from 5 - 8 p.m. The funeral will be held in the chapel at the funeral home on Saturday June 27 at 10 a.m. with burial immediately following at Hinton Cemetery in Ellisville, Mississippi. The Reverend Norman Hartshorn will officiate. Pallbearers will be Cory Bruntz, Daniel Osbourne, Wesley Smith, Will Parks, Nick Wellman, and Jeremy Soble.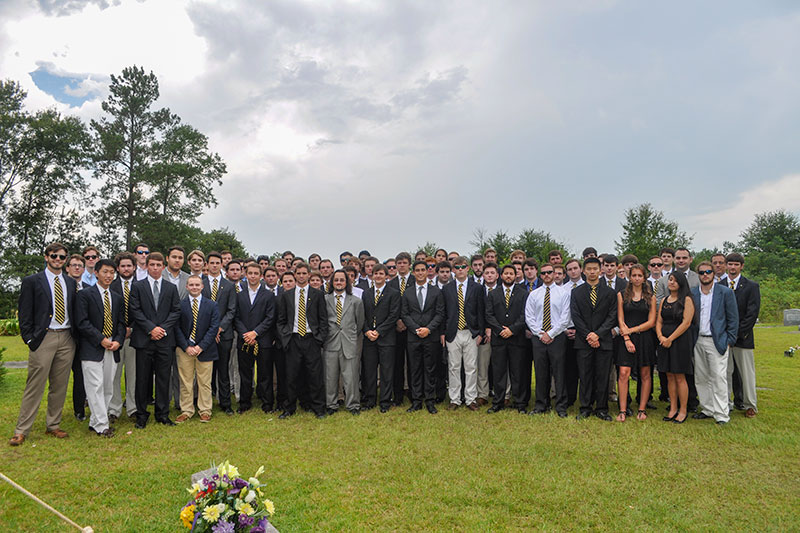 Busy Social Calendar
During the 2014-15 Sigma Nu held numerous date parties and mixers. Three large scale events marked the social year for the chapter. The Chapter held their annual winter formal at Club LeConte in downtown Knoxville. Club LeConte is located on the 27th floor of the Plaza Tower building. February saw the chapter spend a Friday night skiing at Ober Gatlinburg overlooking downtown Gatlinburg. The chapter donated over 500 can of food so that all brothers who attended skied for free. April saw the chapter heading to Lexington, KY for a weekend at the race tracks. Over 150 brothers and dates spent the day at Keeneland Racecourse for the chapters annual spring formal.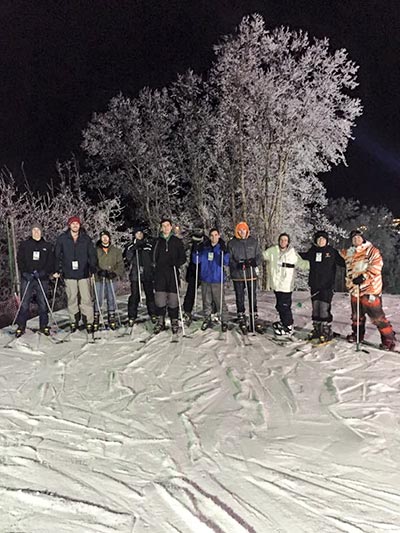 Sigma Nu wins Championship in Spring 2015 Boxing Tournament
During the Spring 2015 annual fraternity boxing tournament Sigma Nu was represented by seven brothers. The event continues to be one of the oldest and largest fraternity events in the country. The chapter was represented by Will Coker, Chris Letsinger, Alex Lee, Nathan Stokes, Cai Chen, Zach Long and Isaac Way. Chris Letsinger won the championship belt for the Featherweight division.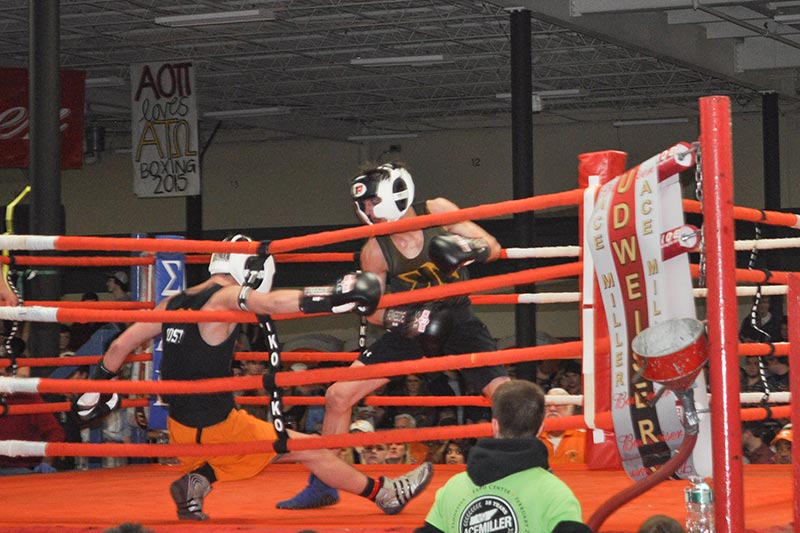 Founder's Day 2015
Sigma Nu held their annual spring Founder's Day on Saturday, April 25th before the Orange and White football game. The chapter welcomed over 100 alumni, brothers and family members for lunch. Each year the chapter presents four annual awards. This year the winners were Man of the Year---Robert Stow, Athlete of the Year---Chris Letsinger, Scholar of the Year---Anthony Micetich and Alumni of the Year---Dr. Jack Lacey. In addition, the alumni association inducted four new members into the Sigma Nu Torchbearer Society. Membership in the group recognizes individuals who have gone above and beyond serving the Epsilon Eta chapter of Sigma Nu. The following alumni were honored ---- Lynn Sorrell (EH #677), Jim Scobey (EH #730), Dr. Jack Lacey (EH #754), Jess Sinqefield (EH #1267) and Chase Sinqefield (EH #1303).

Relay for Life 2015
Sigma Nu participated in the annual campus wide Relay for Life on Friday, April 10. Over 25 campus organizations came together in Circle Park for a night of walking and raising money for Relay for Life. The event raised $ 33,113.48. Sigma Nu finished second overall by raising $3,682.28. Brother Josh Raplee raised $1,010 and was named the second higher individual fundraiser for the event. In fundraising events leading up to the event, Sigma Nu won the annual Relay for Life dodge ball tournament.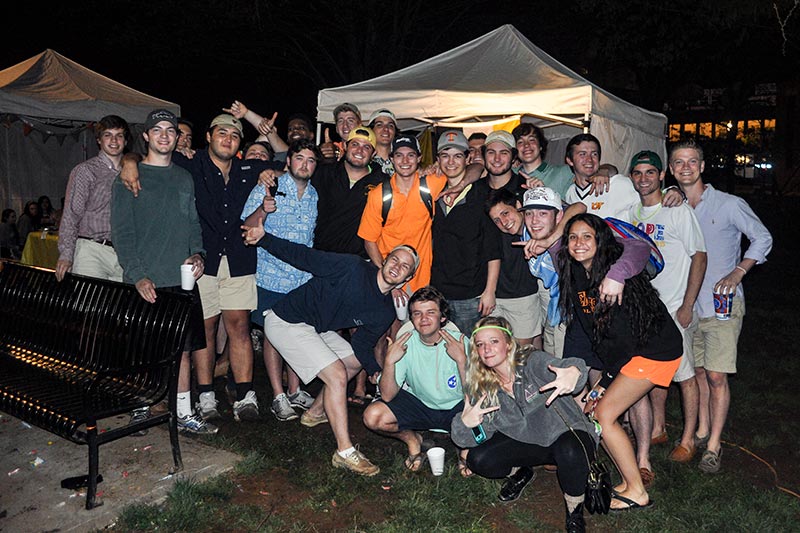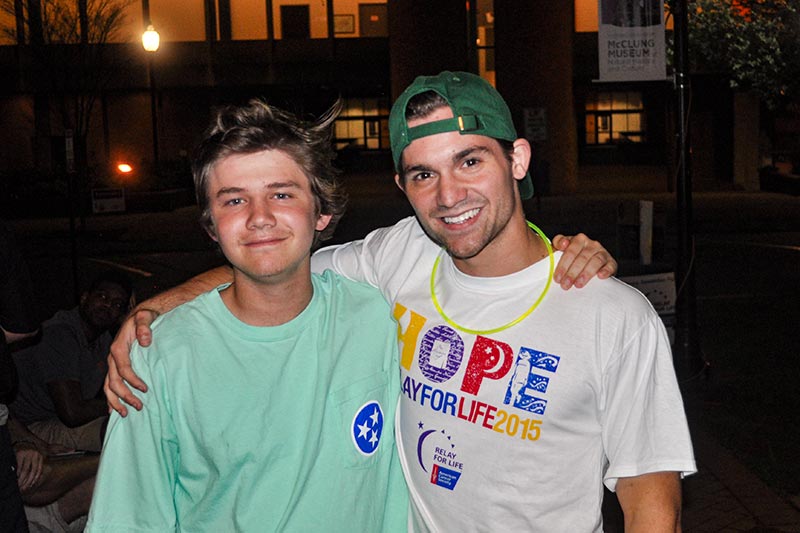 Family Weekend 2014
The brothers of Sigma Nu Fraternity hosted their annual Family Weekend dinner on Friday, September 5th. Each year the event coincides with the University's annual Family Weekend. The dinner and program was held at the fraternity house on Friday night. The event was attended by over 150 brothers, candidates, family members and alumni. The event was catered by Chandler's. The guest speaker was former Knoxville Mayor and Ambassador to Poland Victor Ashe.

Home Coming 2014
Sigma Nu and Delta Zeta joined for Homecoming 2014. Over forty campus organizations participate in Homecoming. Sigma Nu and DZ entered the following events: Anything Goes, the Bed Race, Large Float, Smokey's Howl, Large Banner and the Can Tower. The groups finished second the Large Float event and fourth in the Bed Race.

Busy Philanthropy Year for Sigma Nu
Sigma Nu participated in many of the philanthropy events offered on campus. Some of the events were --- Delta Zeta's Anchor Splash, Zeta Tau Alpha's Three Days for Zeta, Delta Zeta's Clay Shoot, Kappa Delta's Shamrock Week. Pi Beta Phi's Volleyball Tournament, Kappa Kappa Gamma's Kappa Olympics and Chi Omega' Dream Connection. In addition, the chapter participated in the Best Buddies Prom and the campus wide For the Kids Event (former Dance Marathon). The chapter finished third in KDs Shamrock Week and placed fifth in fundraising on campus for the For the Kids event (and first place among all fraternities).