Sigma Nu's 2016-2017
Sigma Nu Epsilon Eta Chapter
The University of Tennessee
Knoxville

Phi Mu-Sigma Nu win Carnicus 2017
In February 2017, Phi Mu and Sigma Nu joined to win Carnicus 2017. The two chapters spent weeks writing a skit, practicing the performance and pulling together just the right costumes for the performance. The hours of preparation paid off when it was announced that Phi Mu and Sigma Nu had placed first in the overall competition.
Carnicus has a long and storied past at the University of Tennessee, Knoxville. The commonly known beginnings date back to the early 1900's. In the early part of the 20th century, UT students celebrated the end of the year's classes with an event called the June Jubilee. It evolved with the Glee Club performing, vaudeville shows by the students, and side shows. In 1911, a circus was added with students dressing as elephants, cows, and other animals. By 1925, the carnival had become a mid-winter carnival held indoors and the circus an outdoor event held in the spring. In 1929, the All Campus Events committee combined the two activities and George Abernathy, a member of the All Students' Club, coined the word Carnicus. The event ended with the crowning of a Carnicus Queen. As Carnicus evolved over the years, emphasis was placed on the skit competitions, and the parades, dances, and queen crowning were eliminated. Today's Carnicus competition allows a maximum of ten groups, single or co-ed, from any student organization.

Fall 2016 --- Football and Road Trips
Fall Semester in the SEC is special every year. The brothers of Sigma Nu enjoyed football season by attending home games, Bristol and many SEC road trips for away games and an occasional trip to Nashville to support the Titans. Football seasons bring out the Big Orange spirit in everyone.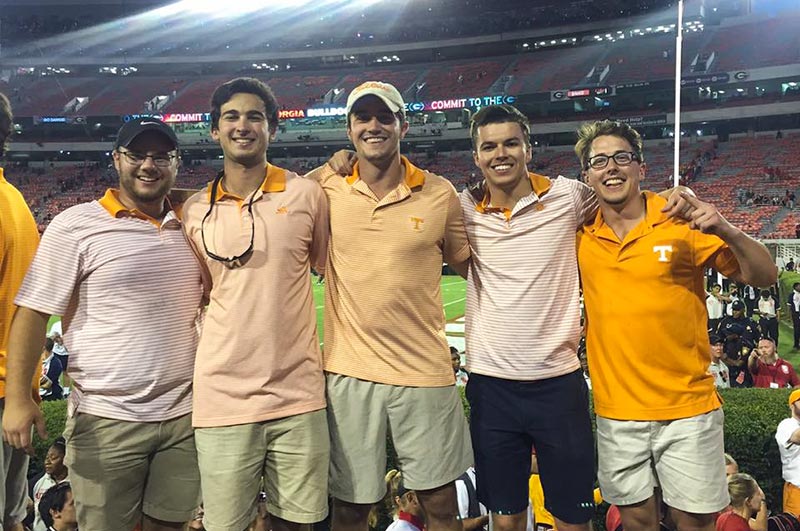 Eric Berry Classic
Each spring semester all fraternity chapters on campus are invited to play in the Eric Berry Classic. The Championship Game is played in Neyland Stadium the day following the Spring Orange and White game. This year Sigma Nu finished second in the annual competition.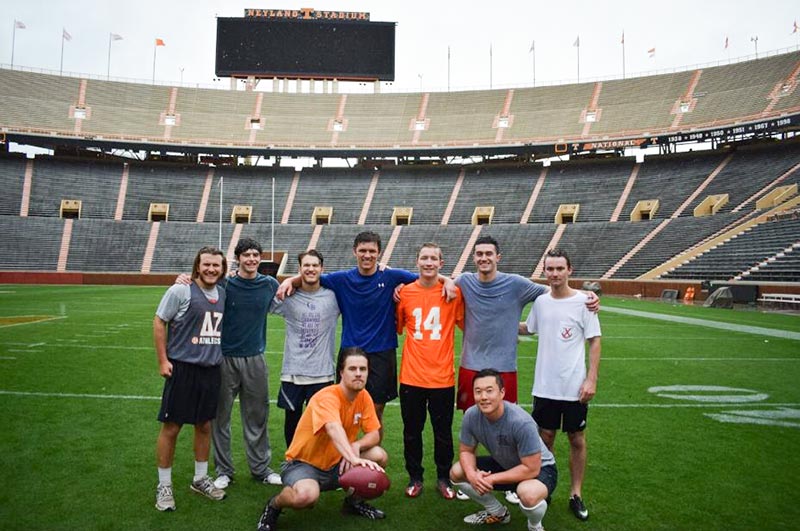 Relay for Life 2017
Sigma Nu participated in the annual campus wide Relay for Life on Friday, April 7. Over 25 campus organizations came together in FIJI Island for a night of walking and raising money for Relay for Life. The event raised $ 40.350.33. Sigma Nu finished in the Top 3 overall for our fourth straight year by raising $3,623. Brother Emerson Burd raised $1,050 and was named the second higher individual fundraiser for the event.

Fall Recruitment 2016
The brothers for Sigma Nu participated in the August 2016 IFC Recruitment process. The week started off with their annual bar-b-que at the home of a local alumni on Lake Loudon. Recruitment Week was highly successful with the signing of over 30 new candidates for the Epsilon Eta chapter of Sigma Nu Fraternity.